Every so often its a good idea to take a break from what you know and learn about something new. This morning, I turned on my trusty computer and a notification popped up telling me that today, is "National Talk In An Elevator Day". I was so excited that such a holiday exists! Only one tiny, small, insignificant problem… today, we two girls, will not be anywhere near an elevator to celebrate!! In all the years we worked and lived in NYC and rode elevators… not to know such a holiday existed, is so disappointing.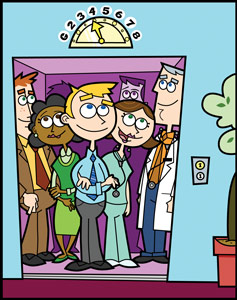 However, this peaked my curiosity. I thought, hmm… lets see what National holidays exist this week, that maybe we CAN celebrate!!
Sadly, I missed "Gorgeous Grandma Day" this past Wednesday. I could do that one sitting in my rocker, no sweat. Dorelle missed "Hot Enough For Ya Day" this week as well. Though really, she celebrates that every day in the summer heat. So… I look to next week to see what awaits us!
Sunday, July 27th is "National Barbie in a Blender Day". I am not sure what prompted this to be a holiday or even to be thought as a possibility, but… there ya go. It's a holiday. (I wonder if I can dig one of my children's leftover barbie dolls?)
Sunday is also "Take Your Pants For A Walk Day". I believe we two girls will DEFINITELY celebrate that one, without even trying!
Wednesday, July 30th is "National Cheesecake Day".  We two girls will put that one on the calendar.  (Although honestly, I think every day should be cheesecake day.)
Friday, August 1st is "National Girlfriends Day". As I mentioned in a previous blog, we two girls should celebrate our anniversary. Maybe, we should make this one our anniversary celebration day.
So, now that my curiosity is running wild… lets see when the flower holidays are!!
National Flower Day – March 21st
National Flower Arranging Day – May 2nd
National Plant a Flower Day – March 12th
National Water a Flower Day – May 3oth
We shall need to put all of those on the calendar to celebrate.
Whatever the day may be, flowers are always what we're thinking about…. Although a slice of cheesecake does sound pretty good right about now…
Now go out and have yourself a cheesecakey, wholesale flower-filled day!
https://secureservercdn.net/72.167.241.134/822.92b.myftpupload.com/wp-content/uploads/2015/06/logo.jpg
0
0
bridesnblooms
https://secureservercdn.net/72.167.241.134/822.92b.myftpupload.com/wp-content/uploads/2015/06/logo.jpg
bridesnblooms
2014-07-25 09:55:23
2014-07-25 09:55:23
National "What?" Day!